Mortgage interest rates ticked slightly up this week, but the trend line remained predominantly steady as it has in recent months.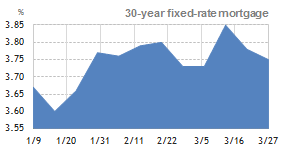 30 year fixed rate mortgage – 3 month trend
Overall, rates have moved "sideways," says Rob McAllister, a mortgage broker for West Seattle Mortgage, in Seattle. And sideways, in his view, is simply more of a good thing.
"We're at such low rates right now that sideways is a positive versus an upward trend," McAllister says.
The benchmark 30-year fixed-rate mortgage rose to 3.66 percent from 3.6 percent, according to the Bankrate.com national survey of large lenders. The mortgages in this week's survey had an average total of 0.35 discount and origination points. One year ago, the mortgage index stood at 4.25 percent; four weeks ago, it was 3.59 percent.
Weekly national mortgage survey
Results of Bankrate.com's Jan. 23, 2013, weekly national survey of large lenders and the effect on monthly payments for a $165,000 loan:
The benchmark 15-year fixed-rate mortgage rose to 2.94 percent from 2.89 percent. The benchmark 5/1 adjustable-rate mortgage fell to 2.71 percent from 2.74 percent.

It's all about QE3
In the absence of major economic news, rates continued to be pushed and pulled by speculation as to how long the Federal Reserve will sustain its policy of purchasing mortgage-backed securities in its third round of quantitative easing, known as QE3.